CABO-ES Database System for Emergency Services
---
The CABO Database System for Emergency Services (CABO-ES) is an easy-to-use, broad scope, source of information relating to chemical and biological weapons of mass destruction. It is the most comprehensive source of CB WMD information available. It provides accurate response to inquires for vital information in seconds. With CABO-ES the information is under YOUR control.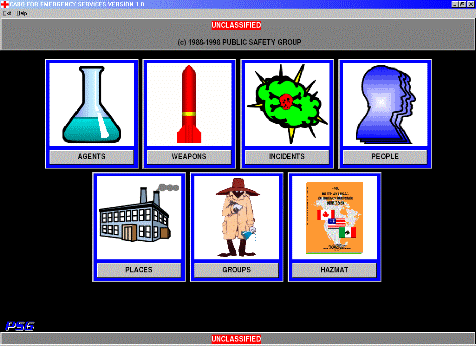 ENVIRONMENT
CABO-ES was developed using KnowledgePro, SQL Server and various dynamic link libraries and utility applications. It has been designed to run on Windows based computer systems. To use CABO-ES, your system must have the following:
An 80486 processor or better.
DOS, version 5.0 or higher (6.2 recommended) and Microsoft Windows 3.x, Windows 95, Windows 98 or Windows NT.
A minimum of 4 Megabytes of RAM (16+ Megabytes recommended).
A graphics adapter compatible with your version of Microsoft Windows (minimum 256 colors recommended).
A hard disk drive with twelve megabytes of AVAILABLE disk space for minimum installation, sixty megabytes of AVAILABLE disk space for full installation.
A CD-ROM Drive.
A mouse or other pointing device.
Any compatible laser or inkjet printer.
FEATURES
Seven modules of information:
Agents and Precursors (695)
Improvised Chemical and Biological Munitions Incident Histories (Non-Military) (350)
Profiles of Individuals Involved in CB WMD (800)
Domestic Facilities Involved with CB Agents and Munitions
Profiles of Terrorist Groups Related to CB WMD
North American Emergency Response Guide
Glossary of Terms
Full On-Line Documentation
Analytical Tools (Agent ID, Munition ID and Incident Analysis)
Fully Y2K Compliant
---
Home - Table of Contents
©1997-2010 Public Safety Group, LLC. All Rights Reserved.