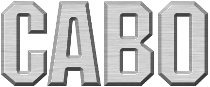 INFORMATION PRODUCTS
---
CABO Information Products are the most comprehensive source of information available on Chemical and Biological Warfare & Terrorism.
In your profession, you need a source -- an accurate, objective third party that can provide information to support your planning and responses. A source that can give you the data you need ... in a format that's easy to use ... in a timely manner. Public Safety Group's CABO Information Products are that source. We provide the data on chemical and biological Weapons of Mass Destruction (WMD) in a variety of customized formats.
Policy
Military
Law Enforcement
Intelligence
Scientific / Technical
Emergency Responders
Medical Professionals
CABO-MX
The Maximum capability (MX) CABO product. Designed for Policy, Military, R&D and Intelligence Professionals, CABO-MX provides the most complete data available on C/B Warfare, Proliferation and Terrorism.
CABO-LE
The CABO Database System for Law Enforcement (CABO-LE) is a fully integrated, relational database specifically tailored for the needs of domestic law enforcement. CABO-LE marries the proven CABO software and operating environment with the information that will be required when you are confronted with an incident involving chemical or biological agents or devices.
CABO-ES
Recent incidents (Sarin in Tokyo, Butyric Acid in Florida, etc.) clearly indicate the need for consequence managers and first responders to be prepared to cope with WMD. Having instantly accessible, accurate information under your control is a key component of this preparedness. The CABO Database System for Emergency Services (CABO-ES) provides the best solution available.
All CABO information products feature:
Comprehensive data on C/B warfare, proliferation & terrorism.
Windows (ver. 3.x through NT) environment.
Accessing & selecting data is quick, easy and intuitive.
Fully relational design.
Search on any combination of fields.
Images, photographs and other graphics.
Analytical tools.
Fully Y2K compliant.
Quarterly updates.
Single-user or site license LAN versions available.
Compatibility solutions for other platforms are available.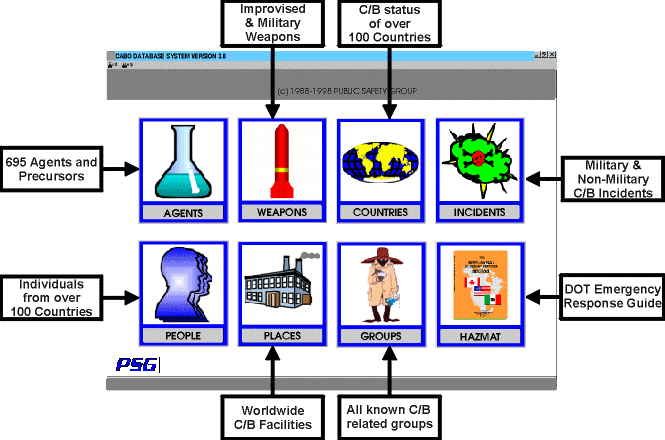 The ONLY fully integrated C/B databases available!
---
Home - Table of Contents
©1997-2010 Public Safety Group, LLC. All Rights Reserved.