CABO-LE Database System for Law Enforcement
---
Recent incidents (Anthrax in Nevada, Butyric Acid in Florida, etc.) clearly indicate the need for law enforcement agencies to be prepared to cope with Weapons of Mass Destruction (WMD). Having instantly accessible, accurate information under your control is a key component of this preparedness. This capability has been expensive, classified and available only to the military and select federal agencies - until today.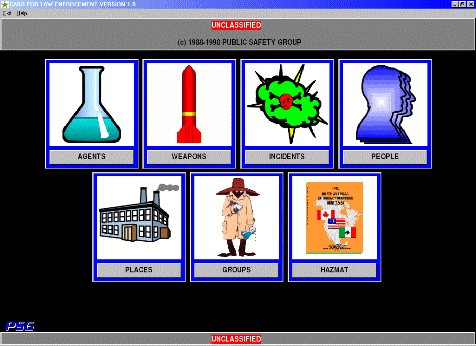 Public Safety Group (PSG), the leading provider of integrated WMD databases since 1988, announces the availability of the CABO Database System for Law Enforcement (CABO-LE). CABO-LE is a fully integrated, relational database specifically tailored for the needs of domestic law enforcement. CABO-LE marries the proven CABO software and operating environment with the information that will be required if you are confronted with an incident involving chemical or biological agents. CABO-LE incorporates the following information and features:
Information
AGENTS: Extensive data on 695 chemical and biological agents, precursors and simulants.
HAZMAT: Data and response guides on thousands of toxic industrial compounds from the DOT Emergency Response Guide (NAERG).
WEAPONS: Data and drawings or photographs of approximately 1000 chemical and biological munitions likely to be found in the United States, including improvised munitions.
INCIDENTS: Extensive data on approximately 350 incidents involving chemical or biological extremists.
GROUPS: Organizational and capability data on all groups known or suspected to be involved with C/B agents or munitions.
PEOPLE: Biographical data on selected individuals.
FACILITIES: Background data on U.S. facilities or locations where chemical or biological agents and weapons are stored or believed to be dumped.
CABO-LE has all the standard features found in CABO including:
User addressable Field Note section in each record
Extensive Help section Detailed documentation
Huge Glossary of technical terms
Standardized information display format
Extensive inter-module data linkage
CABO-LE will run on any computer system that uses Windows 3.x, Windows 95, Windows 98 or Windows NT operating systems. CABO-LE can also be configured to run on most computers which use the UNIX family of operating systems.
Quarterly update service is available and CABO-LE is fully Y2K compliant.
New Features
FACILITY LOCATOR: Not sure if there is a WMD facility near you? Got a GPS? Enter the coordinates of your geographic location and CABO will list all known CB related facilities with one half degree of your location.
---
Home - Table of Contents
©1997-2010 Public Safety Group, LLC. All Rights Reserved.