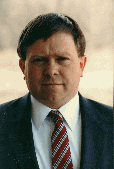 Harvey J. (Jack) McGeorge II, CPP - President & Principal Consultant
---
Through successful application of over 25 years of practical experience in Chemical and Biological Warfare (CBW), Jack McGeorge has become a nationally recognized expert and consultant on the subject. Jack has had the benefit of hands-on experience with virtually all U.S. and many foreign CBW munitions. With a broad background in CBW, law enforcement, security and military science, Jack has successfully crafted creative, functional solutions to his client's various complex problems.
His experience includes 17 years in direct CBW information management, with additional experience in the C/B aspects of protecting the President during his six years with the U.S. Secret Service as a Munitions Countermeasures Specialist. His experience also includes information collection and analysis, duty as an Explosive Ordnance Disposal Technician with the U.S. Marine Corps and Army Special Forces, command and control, disaster management, law enforcement and information management. In addition, Jack has earned the coveted designation of Certified Protection Professional from the American Society for Industrial Security. In October 2000 Jack was awarded a Doctorate (honoris causa) by the State Research Institute for Organic Chemistry and Technology (GosNIIOKhT) for his work in the field of chemical and biological terrorism.
Having recognized early in 1984 the pervasive need for reliable CBW information, Jack began the massive project of creating a functional, user friendly database that would meet the needs of CBW experts under a variety of field conditions. The resulting product, know as the CABO Database System, has rapidly grown in popularity among industry professionals due to its functional design, reliability and easy to use interface.
In addition to his significant accomplishments with CABO, Jack has presented dozens of briefings, lectures, and multi-day seminars on C/B agents, munitions, terrorism, proliferation and related topics. He has served as the principal investigator or consultant on at least 20 significant CBW related projects, studies or operations for agencies including AFMIC, CIA, CBDCOM, U.S. Customs Service, DIA, DISA, Departments of the Army, Air Force, and Marine Corps. Jack has published 14 articles on CBW, serves as the contributing editor for CBW for Strategic Policy Magazine, and regularly presents expert commentary on matters involving C/B, terrorism and explosives for CNN, NBC, PBS and other television networks.
View H.J. McGeorge Curriculum Vitae.

Jack passed away on August 18th, 2009. Jack was a friend and a colleague who offered me some of the most interesting and challenging work that I have experienced to this day. You may view his obituary on-line. This website remains open in dedication to him and his work.
~ Kurt Sidenstick
---
Home - Table of Contents
©1997-2010 Public Safety Group, LLC. All Rights Reserved.